Lawn Care Services in Arlington, Falls Church, McLean, VA & Nearby Areas
We offer various services, including fertilization, weed control, leaf removal, and lawn mowing!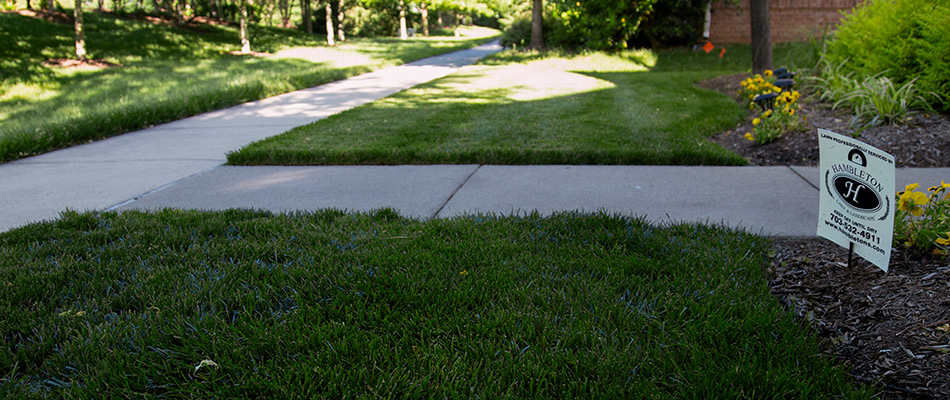 If you want to give your lawn everything it needs to thrive, look no further! Here at Hambleton Lawn & Landscape, we offer lawn care services to property owners in and around Arlington, Falls Church, and McLean, VA. Whether you need fertilization, weed control, leaf removal, or even lawn mowing - we'll exceed your expectations with our services every time and help your lawn shine.
---
Lawn Fertilization

Every lawn needs fertilizer treatments to stay healthy and green, and we'll give yours all the nutrients it needs with six treatments throughout the year - starting in the early spring and ending in the late fall. Each fertilization treatment will replenish your turf's nutrients and last until the next to ensure it always has a consistent supply.

Weed Control

We'll apply pre-emergent weed control treatments in the early spring and late spring to get ahead of crabgrass and other seasonal weeds. We'll also eliminate any existing weeds, including crabgrass, broadleaf, dandelions, and clover, with our post-emergents, which we'll apply six times to keep the population under control all year.

Aeration

Though natural and inevitable, compacted soil inhibits your turf's ability to absorb nutrients and essential resources, including sunlight, water, and air. Fortunately, our core aeration service will remedy this problem, and we'll perform a single pass over your lawn with our aerator, pulling up plugs of soil and creating tiny holes in the surface. These holes then act as passageways, improving resource access to the roots and effectively loosening the soil.

We offer our aeration service in the spring and fall, which we recommend scheduling at least once a year.

Overseeding

If you want to thicken your turf by filling bare and patchy areas with new grass growth, then our overseeding service is for you! We use a tall fescue seed blend, which will thrive in our climate, and even mix them with a starter fertilizer to provide a nutrient boost. However, that's not all - because we want to ensure optimal results, we offer our overseeding service with aeration. Aeration will create ideal conditions for the seeds to have direct contact with the soil, giving them a better chance of successfully germinating.

Lawn Disease Control

Fungal diseases like red thread, brown patch, and dollar spot can spell trouble for your turf, but you can prevent them with our preventative lawn disease control treatments! We also offer curative lawn disease control treatments to eliminate any existing fungal growth.

Grub Control

Grubs are pesky lawn insects that feed on the roots of your grass, destroying your turf in the wake of their feast. Fortunately, we can help you get ahead of grubs before they cause problems with our preventative grub control treatment. We'll apply this treatment in June, before their active season begins, to eliminate them before they hatch.

Lawn Mowing

While lawn mowing is a necessary maintenance service, it can be tiresome. Now enter our lawn mowing service, where we'll take this task off your hands and mow your lawn to perfection every week from the end of March until the end of November.

Our lawn mowing service includes string-trimming, edging, and blowing!

Leaf Removal

Leaf piles can hinder your turf's health and curb appeal if not removed, though that won't be the case with us! We'll blow all the leaves on your lawn and landscape beds to the curb, then rake them onto a tarp before removing them from your property.
---
Schedule our lawn care services to achieve your dream lawn!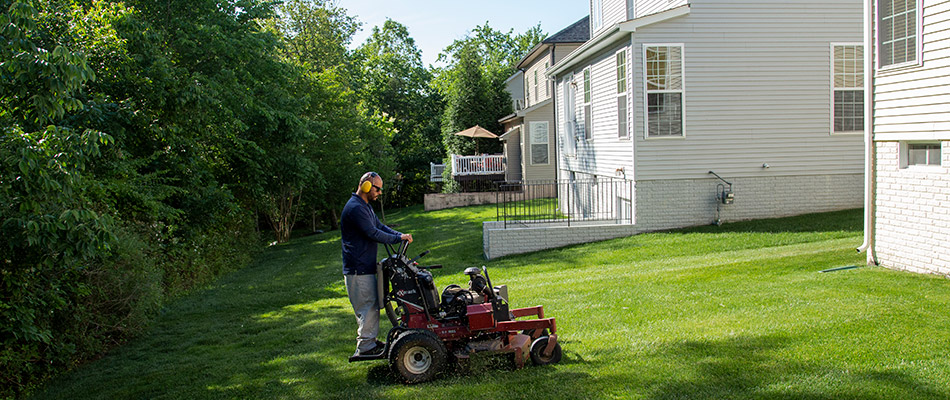 Everyone's dream lawn is thick with verdant, healthy grass, but we'll make it a reality with our lawn care services! We offer services like fertilization, weed control, and even mowing and leaf removal to residential property owners in Arlington, Falls Church, McLean, VA, and other nearby areas. Call us at (703) 532-4911 to schedule any of our services and achieve your dream lawn!