Lawn Care & Landscaping Services in & Around Arlington, Falls Church & McLean, VA
Our services include fertilization, lawn mowing, mulch installation, and more!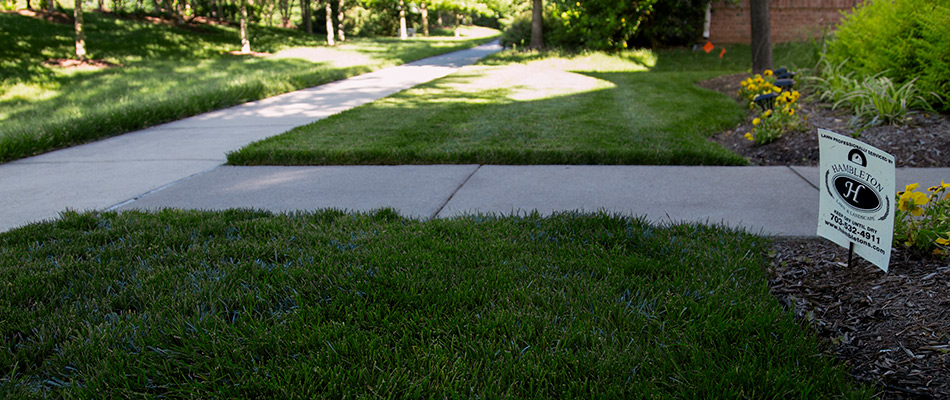 An equally healthy and beautiful lawn and landscape are within reach - with our lawn care and landscaping services! Since 2001, we've been providing top-quality services to properties in Arlington, Falls Church, McLean, and other surrounding areas in Virginia. Whether you need fertilization, lawn mowing, mulch installation, or anything in between - we've got you covered.
---
Lawn Fertilization

Our lawn fertilization program includes six treatment applications from February-March until November-December to supply your turf with all the nutrients it needs to thrive, namely nitrogen, phosphorus, and potassium.

Weed Control

We'll utilize pre-emergent weed control treatments to get ahead of weeds before they sprout, then post-emergents to eliminate any already on your lawn.

Some common weeds we tackle include crabgrass, dandelions, and clover.

Aeration

We offer core aeration in the spring and fall, which consists of pulling "cores" of soil from the surface of your lawn to create passageways and give nutrients better access to your turf's roots.

Overseeding

Fill in bare and patchy areas on your lawn with our overseeding service, which we offer with aeration! We'll also mix a starter fertilizer with our premium fescue seed blend to give them a jumpstart on germination.

Lawn Disease Control

Get ahead of lawn diseases like brown patch, dollar spot, and red thread with our preventative lawn disease control treatments! If your turf is already suffering from a fungal disease, don't worry - we also offer curative lawn disease control treatments to eliminate them.

Grub Control

We offer preventative grub control treatments to prevent a grub infestation on your turf, which we'll apply in June before they become most active.

Lawn Mowing

We'll mow your lawn weekly, from the last week of March until the last week of November, to keep your grass at an ideal height throughout the growing season. What's more, this service also includes string-trimming, edging, and blowing!

We'll rotate mowing patterns each visit to avoid pushing the grass in one direction and creating ruts on your lawn.

Leaf Removal

Leaves are a staple of fall but a pain to remove from your yard. Fortunately, we're here to help! We'll blow the leaves off your lawn and out of your landscape beds before gathering and hauling them off your property.

Lawn Rejuvenation

We can rejuvenate your lawn by adding compost to it and aerating it. We'll also provide much-needed TLC to problem areas.

New Lawn Seeding

If you want to establish your new lawn from the ground up, our seeding service is for you! We'll thoroughly prepare the soil, clearing it of debris and weeds before planting our fescue seed blend. Then, we'll spread a specialized mulch mixed with a starter fertilizer to give them the nutrients they need to germinate and establish quickly.

Sod Installation

We'll prepare the soil before installing the sod, exercising precision so you can enjoy a beautiful, new green lawn immediately.

Landscape Bed Cleanup

We'll perform our landscape bed cleanup service monthly or every other week, depending on the time of year and how quickly your plants are growing. This service includes plant trimming and pruning, debris removal, ground cover maintenance, and more!

Fall Yard Cleanup

Our fall yard cleanup includes removing debris, leaves, and weeds from your landscape beds, then trimming and pruning your shrubs as needed.

Spring Yard Cleanup

We offer our spring yard cleanup service from the end of February until June, which consists of removing sticks, leaves, debris, and weeds from your landscape beds. Then, we'll trim and prune your shrubs to prepare them for the new growing season.

Mulch Installation

We'll clean up any debris and trim the edges of your landscape beds before installing our double-shredded hardwood mulch, which is available in multiple colors.

Christmas Light Installation

Decorating your home for the holidays is a hassle, but not for us! We'll take this dreaded chore off your to-do list and install stunning Christmas lights as early as October. Then, we'll remove and store the lights for next year once the season ends.
---
Sign up for any of our lawn care and landscaping services today!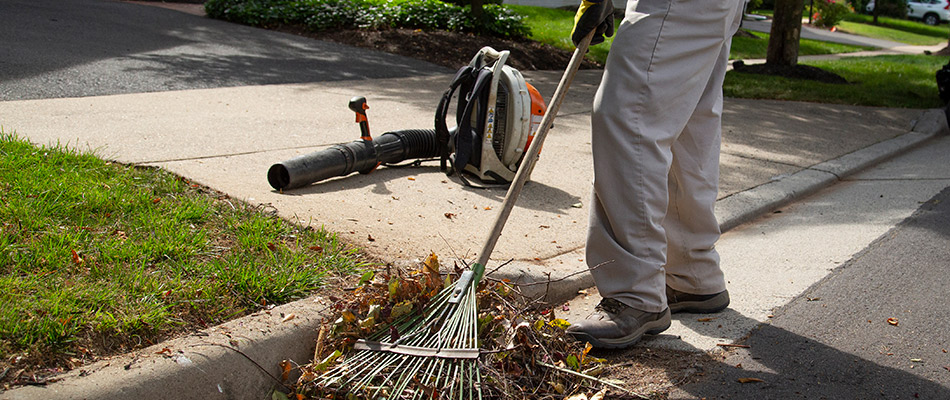 At Hambleton Lawn & Landscape, we offer our lawn care and landscaping services to residential property owners in and around Arlington, VA, including Falls Church and McLean. Whatever you need, you can trust that we'll do it right the first time. Call (703) 532-4911 to sign up for any of our services today!