Aeration is a vital lawn care service that involves removing cores of soil from the ground to address compaction. In Virginia, this process is typically performed during the spring and fall to ensure your grass is at its strongest to endure it and has optimal access to much-needed resources. However, it leaves behind numerous clumps of soil all over your lawn. The best way to deal with these clumps is to leave them alone, as they will decompose naturally and release nutrients back into the soil. If you can't stand how they make your lawn look, you can rake or mow over them to hasten the decomposition process and still ensure it reaps the benefits of them. You can also remove the soil plugs altogether, but it is best if you don't since their nutrients help improve soil and lawn health!
---
Why are there clumps of soil on your lawn after core aeration?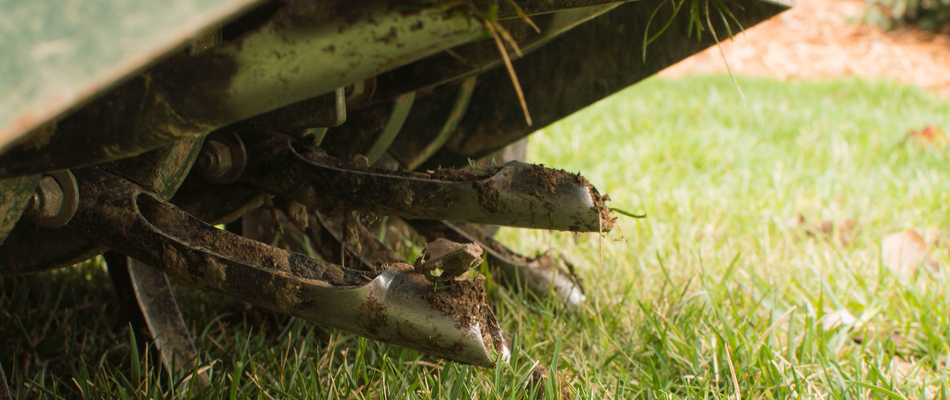 The clumps of soil you see on your lawn are the result of core aeration. The process of core aeration involves pulling up plugs of soil from the ground to loosen compaction and allow the roots of your grass to get better access to nutrients and resources. These plugs of soil are typically less than an inch in diameter and can range from 2 to 6 inches long.
---
The best way to deal with these clumps of soil is to leave them on your lawn.
If you're wondering how to best deal with the clumps of soil after aeration, you will want to leave them on your lawn and allow them to decompose naturally. These plugs of soil are filled with the same nutrients your turf had before aeration, and they will release them back into the soil as they break down. Because core aeration helps with your lawn's nutrient uptake, it can easily absorb and maximize the nourishment from the decomposing plugs!
The cores of soil resulting from aeration takes about two weeks to break down, depending on factors like your lawn mowing schedule and rainfall.
---
What should you do if you don't like the look of these cores of soil on your lawn?
While it is best to allow the cores of soil to break down naturally, some people don't like how they make their lawn look. Here are some things you can do with these aeration plugs:
You can rake or mow over the soil plugs to break them up. Doing this speeds up their decomposition process and will make your lawn look better. It will also allow your grass to still benefit from the nutrients they release as they break down.
You can completely remove the soil plugs. This is your last resort if you really can't stand how the clumps of soil look. However, getting rid of the soil plugs is not recommended because you're also ridding your lawn of the chance to reap the nutrients they can provide.
---
Call us today to sign up for our aeration service!
Soil compaction is a common issue for lawns and should be addressed through aeration. Here at Hambleton Lawn & Landscape, we offer an aeration service that involves pulling up plugs of soil from your lawn to loosen compaction and open up channels where nutrients and other vital resources can pass through to reach the roots of your grass. We offer this service in the spring and fall because these seasons provide ideal conditions to ensure your turf can endure the process and recover quickly afterward.
Our aeration service is available to residential property owners in Arlington, Falls Church, McLean, VA, and throughout the nearby areas. Call us today at (703) 532-4911 to sign up and set up your lawn for long-standing success!