Spring is an important time for your lawn, as it's the time to emerge from dormancy after the long winter and reenter the new growing season. That's why you should never forget to fertilize your grass in Arlington, VA, this spring! Spring fertilization helps it come out of winter dormancy and regain its beautiful green color. It also provides much-needed nutrients that fuel your lawn's healthy growth in the spring and set it up for a successful season. What's more, fertilizing your grass this spring will gear it up for the upcoming summer and ensure it stays in tip-top shape during the stressful heat of the season.
---
Fertilizing your lawn in the spring will help it emerge from winter dormancy.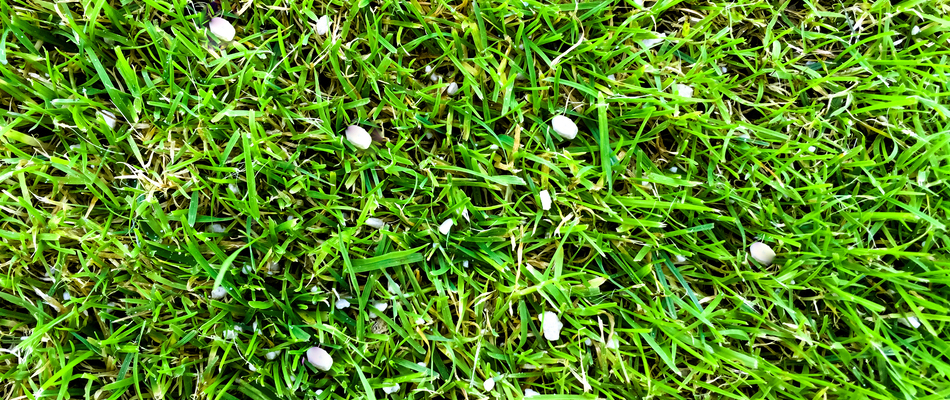 Your lawn uses up most of its stored nutrients throughout the winter season to survive being dormant. So, it will need lots of TLC to restore its verdant look. As the weather warms up in Arlington, VA, and your grass starts to come back to life in the spring, fertilizing it will replenish its supply of nutrients and help it emerge from dormancy.
Fertilizing your lawn in the spring will also make it denser and aid in quicker green-up. After all, it'll help it produce chlorophyll, which it needs to boast that vibrant green color, plus allow it to recover from any winter-related damage!
---
Spring fertilization gives your lawn a nutrient boost to fuel healthy growth.
Spring is your lawn's season of rebirth. After it comes out of winter dormancy, your grass will focus its energy towards growing strong and healthy. That's where spring fertilization comes in! Fertilizing your grass in Arlington, VA, in the spring provides it with a much-needed nutrient boost that will fuel robust growth. With enough supply of nutrients, your lawn can reenter the new growing season in optimal health.
Fertilization treatments provide three essential macronutrients: nitrogen, phosphorus, and potassium. These nutrients will bolster your lawn's health, strengthen its root system, build up its resistance against stressors, and maintain its lush green color. That way, your grass won't just thrive in the spring but for the rest of the growing season.
To yield the best results for your lawn, make sure it has no competition for nutrients by eliminating weeds via weed control treatments.
---
Fertilizing in the Spring Prepares Your Lawn for the Summer
Summer is right around the corner, and it's another stressful season for your grass. After all, the heat and dry conditions during this season can be detrimental to your lawn. That's why it's crucial to never forget to fertilize your grass in the spring!
Nourishing your grass before summer rolls around is a great way to prepare it for stressful conditions. Fertilizer treatments in the spring will help to strengthen your lawn before the taxing heat sets in, encouraging stronger root systems and making it fuller and thicker, which will allow it to withstand the summer season and still look beautiful.
---
Call us today to enroll in our lawn fertilization service!
Here at Hambleton Lawn & Landscape, we are committed to helping homeowners achieve the lush, strong lawn they've always wanted through our lawn fertilization service. When you sign up for this service, we will visit your property from February to December to ensure your grass has all the nutrients it needs to thrive from spring to winter. This program also includes weed control treatments so you can rest easy knowing it does not have to compete for nutrients!
We offer our lawn fertilization program to residential property owners in Arlington, Falls Church, McLean, VA, and throughout the nearby areas. Call us today at (703) 532-4911 to enroll!