If your lawn looks like it's struggling and has patches of discolored grass, you might be looking at two possible culprits: drought and brown patch lawn disease. The weather conditions in Virginia can cause your lawn to suffer from drought and provide an ideal environment for brown patch to fester. It can be hard to tell the difference between the two, but there are distinctive signs to look out for! If your lawn is stressed from drought, it will have discolored and wilting grass blades and cracked soil. However, if it has patches of brown grass with a darker ring and a cottony growth on the blades, it's a reliable, tell-tale sign that it is infected with brown patch. You'll want to contact a professional lawn care provider to diagnose your turf and have it treated for the disease!
---
How to Tell if Your Lawn Is Suffering From Drought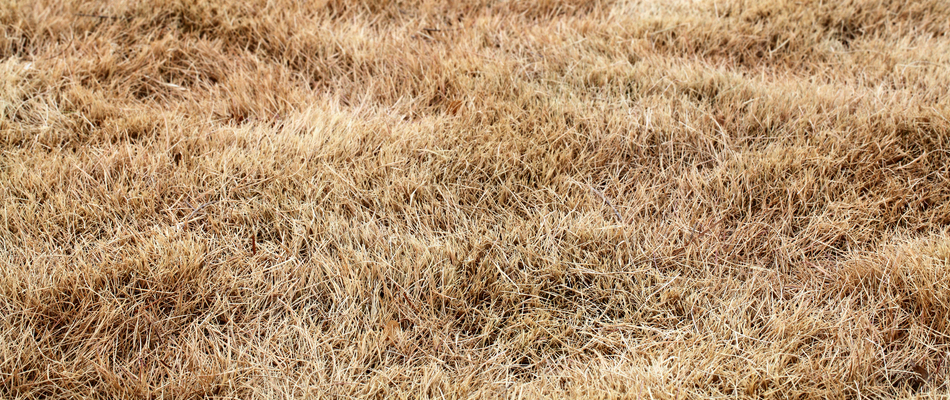 Drought is a common culprit behind weak lawns, especially during the hot and dry summer season. Stress from drought can be detrimental to your lawn since water is one of the most crucial aspects of maintaining healthy growth. Without enough water, its health and appearance are at stake! Here are common signs that point to your lawn suffering from drought:
Wilting and curling grass blades
Footprints on your lawn are still seen long after being stepped on
Brown or straw-colored patches of grass
Cracked soil
Slow grass growth
If your lawn recovers after you water it, it's suffering from drought. If the issue persists, it might be infected with brown patch.
---
What are the signs that your lawn is suffering from brown patch?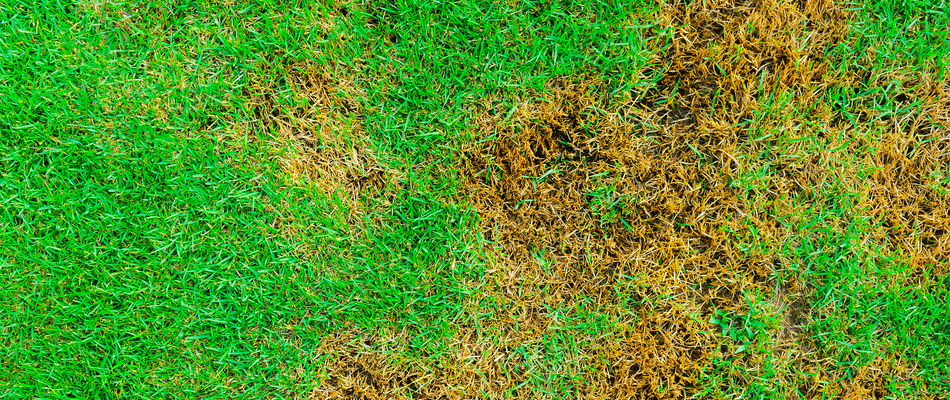 Brown patch is a common lawn disease that affects almost all types of grasses. As its name implies, this fungal disease appears as patches of brown grass throughout your lawn that resemble drought symptoms. However, the patches caused by this disease will often have a darker ring, and the grass blades inside will recover over time. Lawns exposed to moist and dewy conditions, especially in the early morning, can also develop cottony growth on the grass blades.
This lawn disease thrives when weather conditions are warm and humid. It is most active when temperatures consistently stay between 70 to 90 degrees Fahrenheit and are coupled with lots of rain. That's why it often appears from late spring to fall.
---
Contact a professional if you think your lawn is infected with brown patch.
If you think your lawn is infected with brown patch lawn disease, the first thing you'll want to do is to contact a lawn care professional. You need an expert to properly diagnose it and determine whether your grass is drought-stricken or suffering from brown patch. Correct diagnosis is crucial since drought and brown patch present similar discolored patches.
After confirming that your grass is indeed affected by brown patch, professionals will immediately apply a curative treatment to eliminate the disease and stop it from causing further damage and stress.
Once brown patch is out of the way, you can schedule lawn care services, like fertilization and aeration, to help nurse your turf back to health.
---
Call us today to schedule our lawn disease control service!
If you're unsure whether your lawn is suffering from drought or brown patch, you need to contact our experts at Hambleton Lawn & Landscape. We can accurately tell the difference between the two and give you a proper diagnosis. If your lawn is infected with brown patch, we offer a lawn disease control service to eliminate it! Our preventative treatments are also available to ensure this fungal disease and others don't cause problems in the first place.
We offer our lawn disease control service to residential properties in Arlington, Falls Church, McLean, VA, and nearby areas. Call us today at (703) 532-4911 to schedule!